Sweet Potato Toasts with Goat Cheese and Fig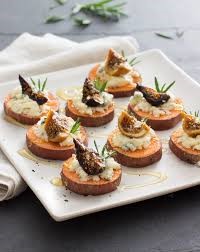 Ingredients:
1 Large sweet potato
2 ounce goat cheese
12-16 toasted pecans
1/4 cup Braswell's fig preserves
Directions:
Preheat oven to 450F while slicing sweet potatoes. Put sliced sweet potatoes on a rimmed baking sheet and place in the oven for 10-15 minutes, flipping once half way through. The toasts are done when tender and browned in spots. Cool completely, top each with 1 teaspoon goat cheese, nuts, and 1 teaspoon of Braswell's. Serve immediately.