About Braswell's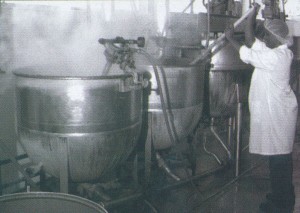 With one steam kettle and a bushel of local pears, Albert Braswell established Braswell Food Company in 1946. His small batch cooking method and keen attention to detail are practices still employed by Braswell's today. In the past 75 years, Braswell's has enjoyed enormous growth by producing time tested, award winning products.


Braswell's specialty preserves, dressings, mustards, fruit butters, sauces, and marinades are pantry essentials that are made with the finest ingredients. Ingredients like locally grown Vidalia® Onions, fresh pears and figs are sourced to produce Braswell's products. Braswell's can be found in grocery stores and high-end retailers across the US. Braswell's is also an established resource for private label customers.


Braswell's is:
the number one seller of Pepper Jelly, Fig Preserves and Pear Preserves in the US
an industry leader in flavor and packaging innovation
currently the 7thlargest Jam, Jelly, Preserve manufacturer in the US
currently the 12thlargest dressing manufacturer in the US
produces products packaged in one-of-a-kind reusable glassware
one of the leading Private Label manufacturers in the US
While Braswell's is proud of its past, we also look forward to the future and providing our customers with high quality specialty products for years to come. Our goal is the same as it was 75 years ago when it all started at 226 N. Zetterower Avenue in Statesboro, GA; provide outstanding specialty foods that give at-home cooks the opportunity to create quality appetizers, entrées, and desserts affordably.