Fig Preserves Glazed Sausage Kebabs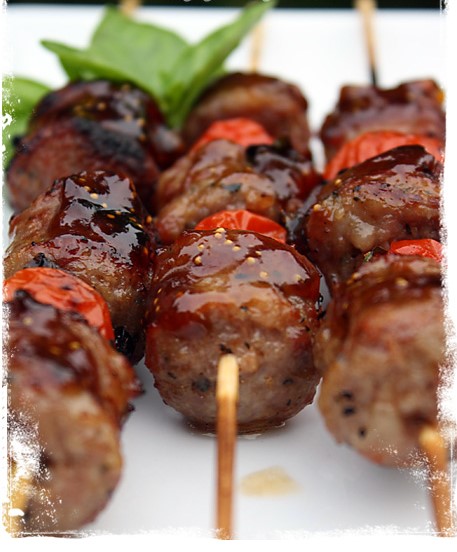 Ingredients:
1 - 20 ounce Sweet Italian Sausages
16 cherry tomatoes
1 bundle of fresh basil
6 tablespoon Braswell's Fig Preserves
2 tablespoon balsamic vinegar
canola/vegetable oil
Directions:
- Prior to grilling soak wooden skewers in water for a minimum of an hour (to avoid the chance of fire).
- If metal skewers are used, skip this step.
When skewers are ready, slice the sausage into 1-inch sections.
- Assemble skewers by threading in the following order: sausage, cherry tomato, basil.
- Continue pattern two additional times per skewer until all skewers are complete.
Lightly brush basil leaves with canola or vegetable oil to keep them from burning.
- Place kebabs onto hot grill and cook until sausages are brown, turning as necessary.
- Transfer cooked kebabs onto a serving tray.
- Set aside to rest.
- While the kebabs are resting, into a small saucepan add Braswell's Fig Preserves and balsamic.
- Stir to combine and cook over low-med heat until it reaches a nice smooth consistency.
- Baste sauce over the tops of kebabs prior to serving.