Roasted Tomato Salsa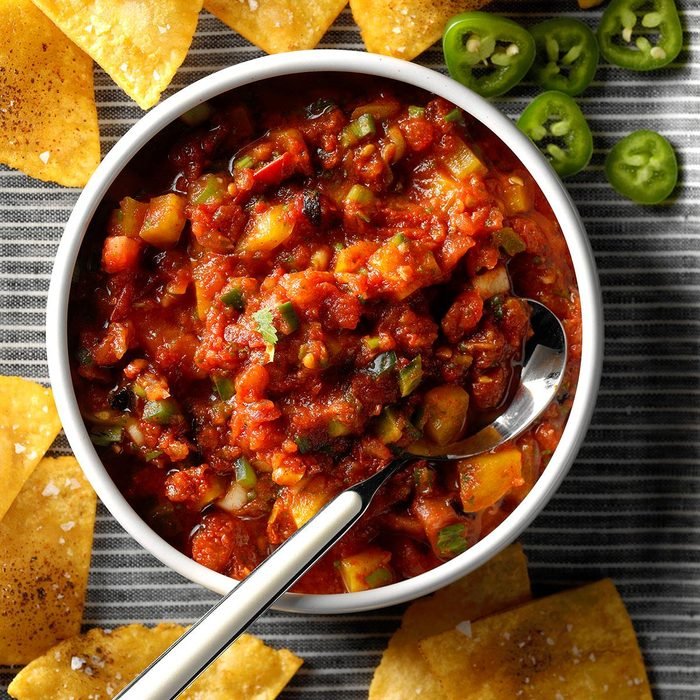 Ingredients:
12 large tomatoes, halved and seeded, divided
2 tablespoon olive oil, divided
1 bunch fresh cilantro, trimmed
1/4 cup lime juice
4 garlic cloves, peeled
2 teaspoon grated lime zest
1 large sweet yellow pepper, finely chopped
6 jalapeno peppers, minced
12 green onions, thinly sliced
1 tablespoon ground cumin
1 tablespoon smoked paprika
1 tablespoon ground chipotle pepper
2 teaspoon salt
1/4 teaspoon Braswell's Fire Roasted Habanero Hot Sauce
Tortilla chips
Directions:
1) Arrange 6 tomatoes cut side down on a 15x10x1-in. baking pan; drizzle with 1 tablespoon oil. Broil 4 in. from the heat until skin blisters, about 4 minutes. Cool slightly; drain well.
2) In a food processor, process uncooked and roasted tomatoes in batches until chunky. Transfer all to a large bowl.
3) Place the cilantro, lime juice, garlic, lime zest and remaining oil in the food processor. Cover and process until blended; add to tomatoes. Stir in the peppers, onions, cumin, paprika, chipotle pepper, salt and hot sauce. Let stand 1 hour to allow flavors to blend.