Peanut Butter and Pepper Jelly Bars - Taste of the South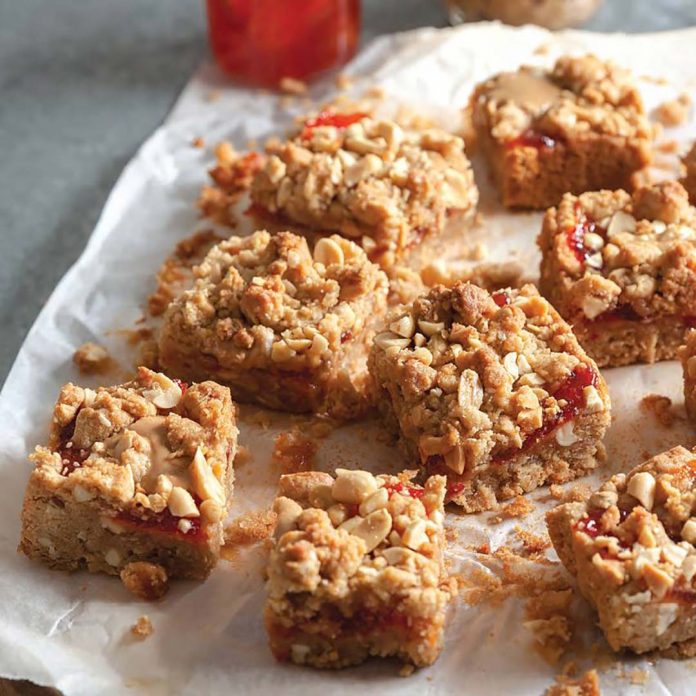 Ingredients:
1 cup creamy peanut butter, divided
1/2 cup unsalted butter, softened
1 large egg
1 teaspoon vanilla extract
1 1/2 cup all-purpose flour
3/4 cup firmly packed light brown sugar
3/4 cup salted cocktail peanuts, chopped and divided
1/2 cup old-fashioned oats
1 teaspoon baking powder
1/2 teaspoon kosher salt
1 each Red Pepper Jelly
Directions:
1) Preheat oven to 350F. Line an 8-inch square baking pan with parchment paper or foil, letting excess extend over sides of pan. Spray with baking spray with flour.

2) In a large bowl, beat 3/4 cup peanut butter and butter with a mixer at medium speed until creamy. Beat in egg and vanilla.

3) In a medium bowl, whisk together flour, brown sugar, 1/2 cup peanuts, oats, baking powder, and salt. Gradually add flour mixture to peanut butter mixture, beating until combined. (Dough will be thick.) Reserve 1 cup dough. Press remaining dough into bottom of prepared pan.

4) Spread pepper jelly onto dough. Drop remaining 1/4 cup peanut butter by teaspoonfuls over jelly. Crumble reserved 1 cup dough over jelly and peanut butter. Sprinkle with remaining 1/4 cup peanuts.

5) Bake until golden brown, about 30 minutes. Let cool completely on a wire rack, about 6 hours. Using excess parchment or foil as handles, remove from pan, and cut into bars.