Roasted Pork Loin with Balsamic Onion Reduction Sauce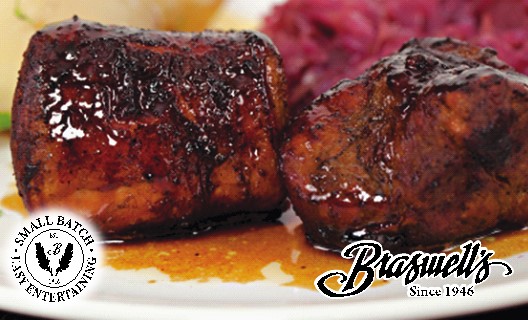 Ingredients:
2 Pork Loins (1.5 - 2 pounds each)
1 teaspoon salt
1 teaspoon black pepper
1 teaspoon garlic powder
2 tablespoon Canola Oil for searing
1 cup Braswell's Balsamic Sweet Onion Jam
2 tablespoon unsalted butter
3 tablespoon low-sodium chicken broth
Directions:
Preheat oven to 400 degrees. Heat canola oil over high heat in a large oven-proof skillet. Season pork loins evenly with salt, pepper, and garlic powder. Carefully place loins in skillet and sear, approximately 1.5 minutes per side. Remove skillet from stove and place in oven. Roast loins for 25 minutes, or until internal temperature reaches 160 degrees. Allow loins to rest for 15 minutes after removing from oven. While loins are roasting, combine Balsamic Sweet Onion Jam, butter, and chicken broth in a small saucepan. Bring ingredients to a boil, stirring constantly to help jam liquefy. Boil for 1 minute and then reduce heat to low and simmer for 10 minutes. The sauce will thicken slightly. Slice pork loins against the grain with a sharp knife into thin (1/4") slices. Arrange on a platter and pour sauce generously over meat and serve.