English Trifle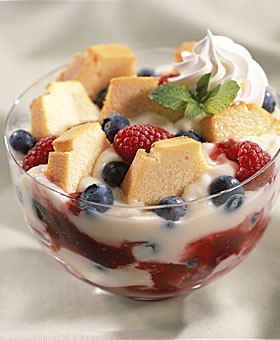 Ingredients:
10 3/4 ounce frozen pound cake
1/3 cup sweet Sherry
1/2 cup Braswell's Red Raspberry Jam
3 cup mixed berries, sliced strawberries, raspberries, blackberries, blueberries
2 kiwi fruit, peeled and cut into chunks
2 peaches, peeled, pitted and cut into chunks
Custard:
8 egg yolks
1 1/4 cup sugar
1 teaspoon vanilla extract
2 cup whole milk
1/2 pint whipping cream
2 tablespoon powdered sugar
strawberries, for garnish
Directions:
Cut pound cake in half lengthwise and trim halves to cover the bottom of glass trifle dish or a 9-inch straight-sided glass bowl. Sprinkle cake with Sherry to soak, and spread cake with jam, heating jam if necessary to facilitate spreading. Place berries, kiwi, and peaches on top of the cake. Heat the milk in top of a double boiler over medium-low heat until film forms on it. Beat the eggs with the sugar and vanilla in a double boiler until it forms a ribbon. Then slowly pour the hot milk into the eggs, beating all the time. Place the mixture in a heavy saucepan and stir over low heat until the custard coats the back of a spoon, 10 to 15 minutes. Don't let it boil. Strain it through a fine sieve. Cool the custard in a bowl set in ice water, stirring occasionally. Pour cooled custard over the fruit. Refrigerate, covered, at least 4 hours. Whip cream to soft peaks. Beat in powdered sugar and continue beating until stiff. Spread whipped cream over the trifle and garnish with strawberries.