Cantaloupe and Avocado Salad with Key-Lime Dressing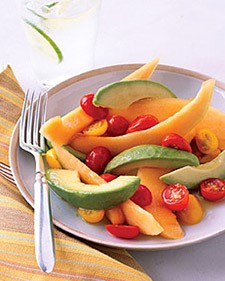 Ingredients:
3 tablespoon fresh lime juice
4 teaspoon Braswell's Honey
5 teaspoon olive oil
1/2 teaspoon coarse salt
1 cantaloupe, quartered and seeded
1 avocado, halved, pitted, and skinned
1 cup grape tomatoes, halved
Directions:
In a large bowl, whisk together lime juice, honey, oil, and salt; set aside. Cut each cantaloupe quarter in half lengthwise. Run a knife between the flesh and the skin of the melon; discard skin. Slice each wedge lengthwise into 1/2-inch pieces. Cut each avocado half again length-wise and then into 1/2-inch-thick slices. Add cantaloupe, avocado, and grape tomatoes to bowl with dressing and toss to coat. Divide among 4 plates.