Chocolate Mousse with Red Pepper Jelly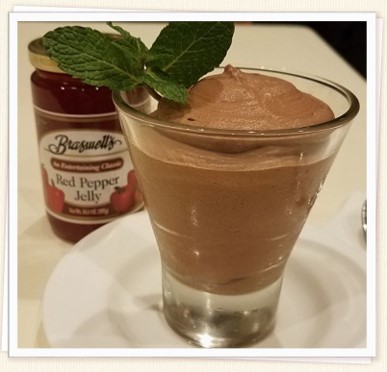 Ingredients:
2 1/2 cup Heavy Cream
8 ounce Bittersweet Chocolate
5 Eggs
1/2 cup Braswell's Red Pepper Jelly
1 teaspoon Cayenne Powder
Directions:
Melt the chocolate on a double boiler.
Set aside to cool.
Heat 1 cup of heavy cream on medium heat
Add the eggs while whisking
Continue whisking to ensure that the mixture is fully incorporated.
Whisk the mixture until it begins to thicken.
Take the mixture off the heat and slowly temper in the melted chocolate.
Mix in the cayenne powder and Braswell's Red Pepper Jelly.
Place the mixture into the chiller and begin on the whipped cream.
Take 1 1/2 cups of the heavy cream and whip until stiff peaks form.
Take the cooled mixture and gently fold the whipped cream in.