Apple Butter Pumpkin Pie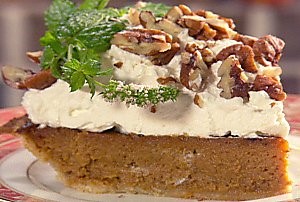 Ingredients:
1 cup Braswell's Apple Butter
1 cup fresh or canned pumpkin
1/2 cup packed brown sugar
1/2 teaspoon salt
3/4 teaspoon ground cinnamon
3/4 teaspoon ground nutmeg
1/8 teaspoon ground ginger
3 eggs
3/4 cup evaporated milk
1 unbaked 9 inch pie shell
Sweetened whipped cream
Directions:
Preheat oven to 425 degrees F. Combine apple butter, pumpkin, sugar, salt and spices in a bowl. Stir in eggs. Gradually add milk and mix well. Pour into pie shell. Bake for about 40 minutes or until set. Cook's Notes: If the crust begins to burn, place tin foil around the crust and lower the temperature of the oven. A tasty topping for this pie is praline pecans.