Sweet Bourbon Glaze Grilled Coho Salmon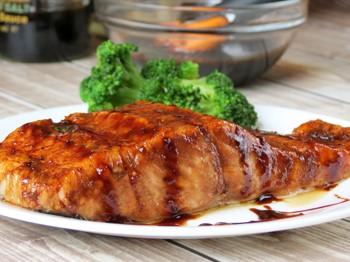 Ingredients:
2 - 4 6 oz. pieces of Coho Salmon
Kosher Salt
Fresh Ground Black Pepper
1 bottle Sweet Bourbon Glaze
1/2 cup olive oil
Directions:
With a basting brush, lightly brush both sides of your salmon filets with olive oil, reserving a little to brush on your clean grill grate. Important! your grill grate must be clean for this recipe to work. Otherwise, your salmon will stick and create a big mess. Lightly season each side of your salmon with kosher salt and fresh ground pepper. Preheat your grill of choice to 400 degrees F. While grill is preheating, pour 4 oz. of Sweet Bourbon Glaze into a small saucepan and heat on stove until sauce starts to slightly simmer. You want it warm, not boiling. Once your grill is preheated to the desired temperature, brush your cleaned grill grate with olive oil and place salmon, skin side up, on your grill for 5 minutes with lid closed. With a wide spatula, flip salmon and brush top side with Sweet Bourbon Glaze and cook for 5 minutes longer. Glaze salmon with Sweet Bourbon Glaze once more and remove from grill, let cool for 5-10 minutes. Serve with your favorite sides.