Marinated Dill Roasted Potatoes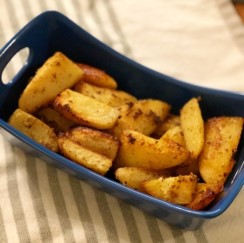 Ingredients:
4 large russet potatoes
1/4 cup olive oil
2 cloves garlic, minced
1 tablespoon oregano
3 tablespoon Braswell's Dill Pickle Mustard
Directions:
Bring a large pot of water to a boil. Peel potatoes and slice into wedges.
Add potatoes to boiling water, cover, and boil for exactly 3 minutes.
Drain potatoes immediately and rinse with cold water, then transfer to a baking dish with a lid.
Combine oil, mustard, garlic, and oregano in a small bowl.
Pour marinade mixture over potatoes and toss to coat.
Cover with lid and allow to marinate in the fridge for 6-24 hours.
When ready, cover with tin foil and bake at 400 F for one hour.
Remove tin foil and bake for an additional 20 minutes or until golden brown!
Serve as a side to your favorite burger or sandwich.