Garlic Dill Hummus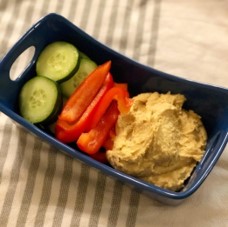 Ingredients:
15 ounce Chickpeas (drained and rinsed)
3 tablespoon Olive Oil
2 tablespoon Tahini
3 cloves garlic, minced
3 tablespoon Braswell's Dill Pickle Mustard
Directions:
Combine all ingredients in a high-powered blender, or food processor.
Add water by the tablespoon if the mixture needs thinning until it reaches preferred consistency.
Serve with pita chips, vegetables, pita bread, as a spread on a sandwich, or in a hummus pasta.