Glazed and Stuffed Pork Tenderloin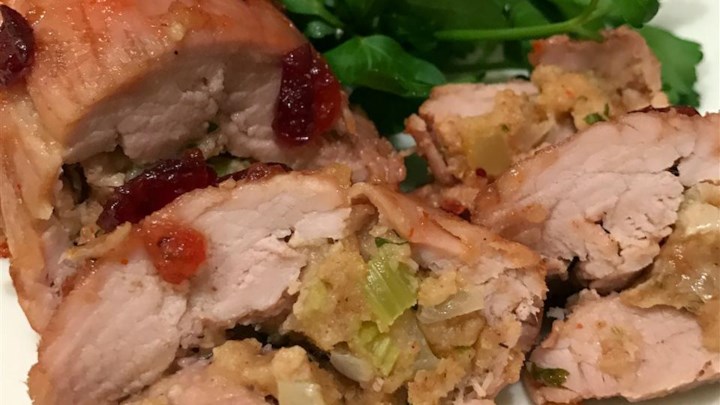 Ingredients:
1 lb pork tenderloin
1 tablespoon canola oil
2 tablespoon butter
3 celery ribs, chopped
1 small onion, chopped
1/2 cup bread crumbs
1 teaspoon garlic powder
1 tablespoon chopped parsley
1/4 teaspoon dried rosemary
1/4 teaspoon salt
1/4 teaspoon pepper
1/4 cup Braswell's Cranberry Preserves
1/4 cup Braswell's Jalapeno Pepper Jelly
1 teaspoon minced garlic
1 teaspoon minced onion
Directions:
Preheat oven to 350 degrees F (175 degrees C).
Cut a lengthwise slit 3/4 of the way through pork tenderloin and spread tenderloin open. Pound the meat flat and to 1/4-inch thickness with a meat mallet.
Heat canola oil in a large skillet over medium heat and brown the flattened tenderloin in the hot oil, about 5 minutes per side. Transfer tenderloin to a plate.
Heat butter in a skillet over medium heat and cook and stir celery and onion in the hot butter until tender, about 8 minutes. Stir bread crumbs, parsley, 1 teaspoon garlic powder, rosemary, salt, and black pepper into the celery and onions.
Open the tenderloin and spread the bread crumb mixture over the meat to within 1/2 inch of the edge. Fold the tenderloin over the stuffing and tie it together with kitchen string; place into a shallow roasting pan.
Stir cranberry jam, jalapeno pepper jam, garlic, and garlic powder together in a bowl; spread mixture over the tenderloin.
Bake in the preheated oven until the jam mixture has baked into a glaze and an instant-read meat thermometer inserted into the middle of stuffing reads 160 degrees F (70 degrees C), 50 to 60 minutes. Let meat stand 5 minutes before untying and slicing.