Peach Tartlets with Apricot Glaze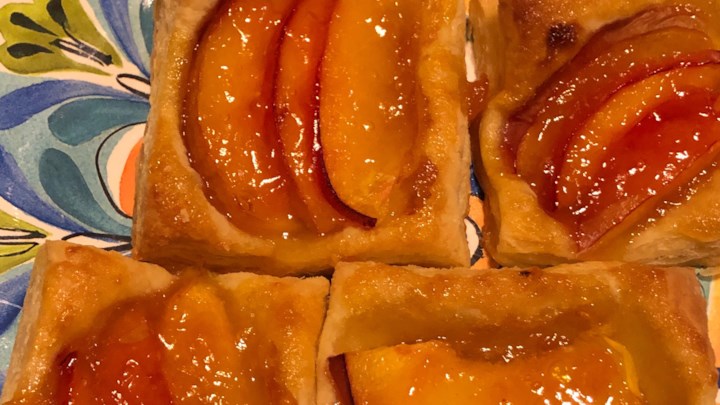 Ingredients:
1 - (17.3 ounce) package frozen puff pastry, thawed
3/4 cup Braswell's Peach Apricot Preserves
2 peaches - peeled, pitted, and thinly sliced, or more as needed
2 teaspoon hot water, or as needed
Directions:
Preheat oven to 400 degrees F (200 degrees C). Line 2 baking sheets with parchment paper.
Cut each sheet of puff pastry into nine 3-inch squares.
Dab a small amount of peach apricot preserves into the center of each square.
Fan 3 slices of peach over the preserves, leaving a slim border of pastry exposed.
Spoon a small amount of apricot preserves over the peach slices.
Bake in the preheated oven, 1 baking sheet at a time, until puff pastry turns golden, about 10 minutes.
Thin remaining apricot preserves with 2 teaspoons hot water in a small bowl to make a glaze.
Spoon some of the glaze over each baked tartlet.
Return to the oven and bake until tartlets are golden brown, about 2 minutes more.
Repeat with the second baking sheet.
Cool tartlets on a wire rack before serving, about 10 minutes.