Red Pepper Jelly and Bacon Thumbprint Cookies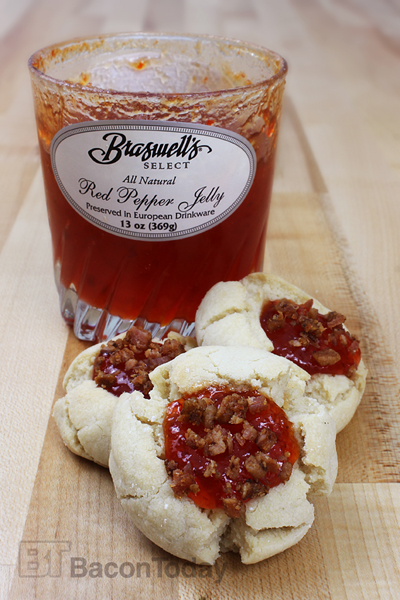 Ingredients:
1 cup butter (2 sticks) softened
1/2 cup sugar
1 egg
2 teaspoon vanilla extract
2 cup flour
1 jar Braswell's Red Pepper Jelly
3 strips of bacon (cooked and chopped)
Directions:
- Preheat oven to 350 degrees.
- In a mixer, cream the butter and sugar until smooth.
- Add the egg and vanilla extract and mix until combined.
- Add the flour in 1/2 cup increments and mix until combined.
- Refrigerate the dough for 30 minutes Roll the dough into 1" diameter balls, then place them on a parchment-lined baking sheet.
- Using your thumb or a spoon, make a small well in the middle of the cookie.
- Press down gently or the cookie will fall apart.
- Do not press all the way to the cookie sheet! Bake for 12-15 minutes or until slightly firm.
- Slide the parchment off the cookie sheet and allow the cookies to cool on the counter.
- When they are cool, fill each cookie with a generous spoonful of Braswell's Red Pepper Jelly. Sprinkle with bacon bits.
- Enjoy!